Here we all are in the boat in the adventure garden!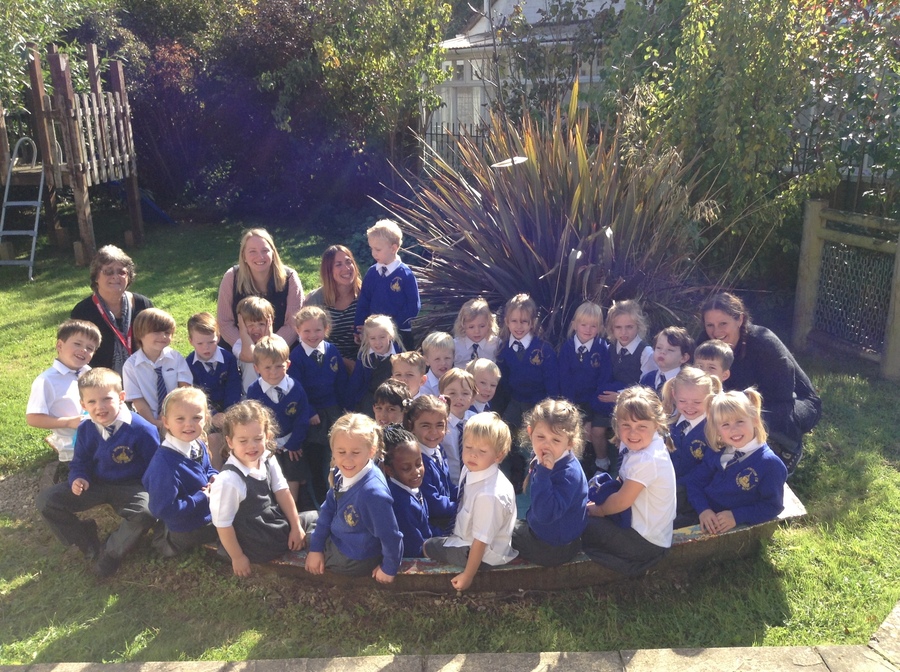 Happy Christmas from The Rabbits!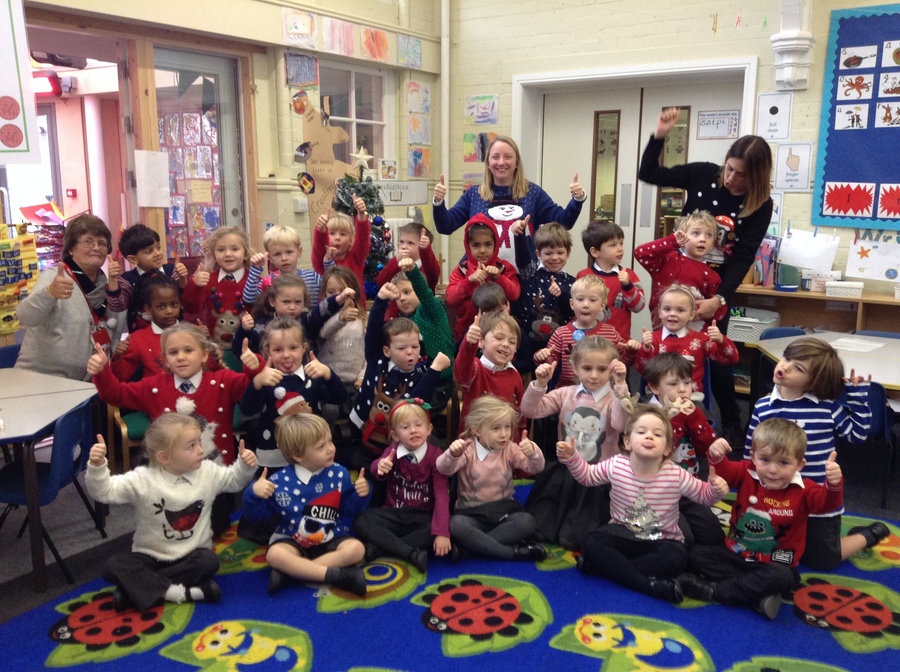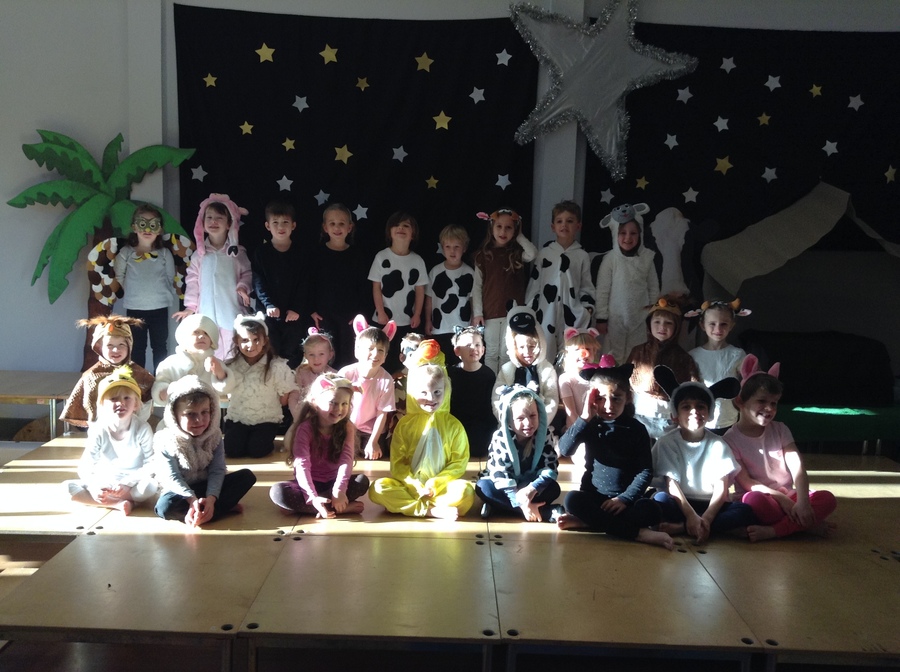 Phew what a busy few days we have had!
We decorated the class Christmas tree last week and changed our role play area to Santa's grotto which has been a huge hit!
In maths we learnt about the part whole method - where we had a target number eg 5 and had to find the different parts of it eg 2+3, 4+1.
We used the magnetic letters to make lots of CVC words too.
I'm sure you will agree the children were amazing in their nativity performances. They looked adorable, and were so confident when they were on the stage singing and dancing.
Today we had an amazing trip to the Baptist church, we loved seeing all the different animals including alpacas, a donkey, pygmy goats and baby chicks. We then all made an angel decoration , had a biscuit and a drink , and Rev Phil told us the Christmas story - Thank you to the Baptist church for inviting us. Mrs Small was very proud of us as the team from the church, and the farm, fed back to her that we were the politest class of children they had ever had, and how we were so gentle with the animals! Well done Rabbits!
We also really enjoyed wearing our Christmas jumpers to school today and having our Christmas dinner where a special guest (Santa!) came to see us!
All of the Year R staff would like to wish you a very Happy Christmas and we look forward to seeing you in the new year .
Thanks to Mrs Wells we have been lucky enough to be taking part in a special Antarctica project at our school. The project is based at Signy research station a UK research base just off of the Antarctic peninsula. As part of this project we designed flags to celebrate Antarctica day, which a couple of weeks ago were sent by aeroplane to Antarctica. Some of the children's flags were then chosen to be planted in the snow and today they have emailed us the photos below to share with you. After Christmas our class topic will be Antarctica so we are extremely lucky to have this amazing link ! Well done to the children who's flags were chosen!
This week we have been rehearsing for our nativity, painting aliens on tin foil, enjoying hamma beads, and having great fun in PE in the new hall.
Below is a photo of us reading Captions in a group with Mrs Job as part of our guided reading activities.
Over the last few weeks we have been doing lots of maths activities!
We have been learning to find 1 more than a number up to 10 / 20. We used the numicon to help us find 1 more, and we also used a tens frame (a 5x2 grid) which we put objects on to. We have also been learning the names of 2d shapes and made amazing rocket pictures!
We have also been practising our fine motor skills. We had to thread coloured bands around golf tees which we had hammered in to the pumpkins.
KS1 had a special assembly to learn about Remembrance Day, we all made a poppy and laid them in the hall. Mrs Job talked to us all about how we remember those who died in the war. The children were able to keep quiet for a whole minute!
We have such a lot of fun in Rabbit class!
Today (Monday) we had a visitor from Shakleton the dog who is a moving puppet. His owners sang us songs and we had a lovely time stroking him.
Also we are so excited that our outside area is now finished and open ! We are so grateful to the DPSA who have funded some new equipment for us including a water wall, sandpit and lots of tools! Thank you! Below are some pictures of us enjoying using it!
We also had great fun fishing in slime, learning to write our numbers and sharing the story Room on the Broom!
Please click here for the parent information letter for Term 2 and the topic map showing what we are learning.
We have had such a busy half term, the children are now really settled and have amazed us this week with their calm working in the classroom, they are all really good now at choosing tasks to complete and sticking to them. We really enjoyed our visits from the police and fire services, and asked really thoughtful and interesting questions to them.
This week we have also enjoyed meeting with our buddies and doing some RE activities with them, linked to being a good role model.
The children enjoyed exploring the loose parts today, and made some interesting pictures.
Inside their book bags are lots of letters, pictures and their first official school photographs - please make sure you take all these things out of their bags. Thank you. Our topic next term is "To infinity and beyond!" which will include the story Room on the Broom, fireworks night, outer space and of course Christmas. The children will have a letter in their bag when they come back to school.
Finally we would like to wish you a very happy holiday!
Phonics - UPDATE
Thank you to all the parents who were able to come to the parent meeting about phonics today, I am so sorry about the technological issues!
Please click the link below to see the powerpoint which should have worked! I hope the meeting was useful anyway, if you do have any questions please feel free to come and see me.
Many thanks, Mrs Job
click here for the parent mtg powerpoint
This week we have begun to learn our letter sounds. The children are loving it! We follow a scheme called the Song of Sounds.
https://m.youtube.com/watch?v=Msu8kzmo2EY
This is a link to the song of sounds on you tube. You can also get to the link by googling Song of sounds stage 1.
On Thursday the children will bring home a reading diary with 4 sounds attached - s a t p. On the back of the letter is a picture which links to the song. When looking at the letter your child should say the letter sound e.g. S, when looking at the picture they should sing the song and do the action - sausages sizzling... We will change these sounds each Thursday.
If you are unsure of the letter sounds the you tube clip will help.
If you get a chance to practise the sounds please feel free to write a comment / stick in a sticker in to their reading diary, we will change the sounds each week on a Thursday if your child knows them. IF you need any more help with the sounds Mrs Wells or Mrs Humphreys will be happy to help you on Friday, or myself on Monday.
Reading books will follow once the children know some sounds.
I
The photos below show some of the activities we have taken part in this week, they include: mark making, drawing, maths, role play being in an office, tap tap shape, mask making, small world play.... The final photo is of us all after we had changed into our trainers for PE today - this took 15 mins for the whole class to change each way! Next week we might try trainers and shorts!!!
We loved meeting our Year 6 buddies to share a story. They have also been helping us in the playground.
We enjoyed playing circle games and parachute games in the playground.
This week our story focus is Elmer the elephant. Today we worked together to make a big painting outside, and have done lots of activities based on colour and patterns.
This week we have been staying for lunch. Here are some photos of us. Lots of grown ups came to help us including Mrs Small and Rev Gimson.
Reception
Welcome to the Rabbits class page !
The children had a great first day at school. I hope you liked the photos they brought home.
I have uploaded some photos below for you to look at, showing the different areas of learning inside the classroom and the children enjoying them.
We also explored the big playground and the toilets!
It was a great and very happy first day!
(Apologies for the duplicate photos - technical issues on the website!)